PLAYERS 
PARTICIPATING PLAYERS: SEASON II
Nigel David Short MBE
(born 1 June 1965) is an English chess Grandmaster, chess columnist, chess coach and chess commentator. Nigel Short earned the Grandmaster title at the age of 19, and was ranked third in the world by FIDE from January 1988 to July 1989. In 1993 he became the first English player to play a World Chess Championship match, when he qualified to play Garry Kasparov in the World Chess Championship 1993 in London.
A chess prodigy, Nigel Short first attracted significant media attention, as a 10-year-old, by defeating Viktor Korchnoi in a simultaneous exhibition. In 1977 he became the youngest ever participant in the British Chess Championship by qualifying three days before his twelfth birthday. Two years later, at the British Championship in Chester 1979, the 14-year-old tied for first place with John Nunn and Robert Bellin, earning his first IM norm. He became (at the time) the youngest International Master in chess history, by scoring 8/15 in the Hastings Premier in 1979/80 and thus breaking Bobby Fischer's record of 1958. Participating in four World Junior Championships (1980–1983), Nigel Short achieved his best result during his first attempt in which he placed second to Garry Kasparov in 1980 at Dortmund. He was awarded the grandmaster title in 1984, aged nineteen—becoming the youngest grandmaster in the world at that time.
In his long career he won the British Chess Championship in 1984, 1987, and 1998, and the English Championship in 1991. He was the Commonwealth Champion in 2004, 2006 (both Mumbai) and 2008 (Nagpur). He won the 2006 EU Individual Open Chess Championship in Liverpool and took a share of second place in the 2008 edition, when it was held there again. He has finished outright first, or tied for first, in dozens of other international tournaments including Geneva (1979), Belfort, World Under 16 (1979), the BBC Master Game (1981), Amsterdam OHRA (1982), Baku (1983), Esbjerg (1984), British Rapidplay Chess Championship (1986), Wijk aan Zee (1986, 1987), Reykjavík (1987), Amsterdam VSB (1988, 1991, 1992, 1993), Hastings (1987/88, 1988/89), Pärnu (1996), Groningen (1996), Tallinn/Pärnu (1998), Isle of Man Monarch Assurance 1998, Dhaka United Insurance (1999), Shymkent (1999), Pamplona (1999/2000), Linares Open (2000), Tan Chin Nam Cup, Beijing (2000), Sigeman and Co. Malmö (2002, 2009, 2013 joint first shared with Richárd Rapport and Nils Grandelius), Gibraltar (2003, 2004, 2012), Budapest Hunguest Hotels (2003), Samba Cup, Skanderborg (2003), Taiyuan (2004), the Politiken Cup (2006), Bazna (2008), the Staunton Memorial (2009) Thailand Open (2011, 2012), Luanda (2011), 7th Edmonton International (2012), Bunratty (2012), RA Club Ottawa (2012), Pühajärve Rapid Chess Tournament (2012), and Spicenet Tanzania Open (2013).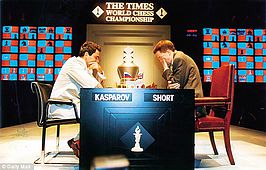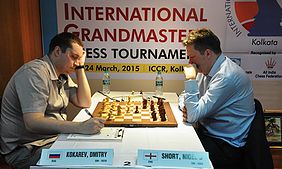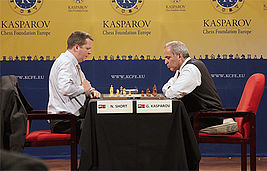 Alexandra Kosteniuk 
(born 23 April 1984) is a Russian chess Grandmaster and a former Women's World Chess Champion.She was a member of the gold medal-winning Russian team at the Women's Chess Olympiads of 2010, 2012 and 2014, and at the Women's European Team Chess Championships of 2007, 2009, 2011 and 2015.
Alexandra Kosteniuk learned to play chess at the age of five after being taught by her father.
In 2001, at the age of 17, she reached the final of the World Women's Chess Championship, but was defeated by Zhu Chen. Three years later, she became European women's champion by winning the tournament in Dresden, Germany. Thanks to this achievement, in November 2004, she was awarded the International Grandmaster title, becoming the tenth woman to receive the highest title of the World Chess Federation (FIDE). Before that, she had also obtained the titles of Woman Grandmaster in 1998 and International Master in 2000. Alexandra Kosteniuk also won the 2005 Russian Women's Championship, held in Samara, Russia, finishing with a score of +7 −0 =4. In August 2006, she became the first Chess960 women's world champion after beating Germany's top female player Elisabeth Pähtz by 5½–2½. She defended that title successfully in 2008 by beating Kateryna Lahno 2½–1½. However, her greatest success so far has been to win the Women's World Chess Championship 2008, beating in the final the young Chinese prodigy Hou Yifan, with a score of 2½–1½. Later in the same year, she won the women's individual blitz tournament of the 2008 World Mind Sports Games.
In the Women's World Chess Championship 2010 Alexandra Kosteniuk was eliminated in the third round by eventual runner-up Ruan Lufei and thus lost her title.
In 2013 she became the first woman to win the men's Swiss Chess Championship. That year she also won the women's Swiss Championship, and thus became the first person to win both the women's and men's national chess titles in Switzerland. In 2015 Alexandra Kosteniuk won the European–ACP Women's Rapid Championship in Kutaisi.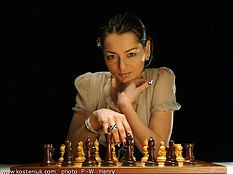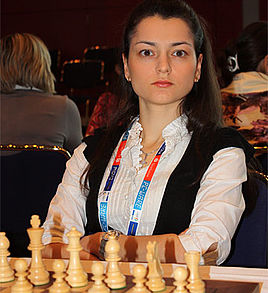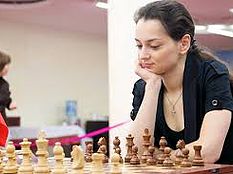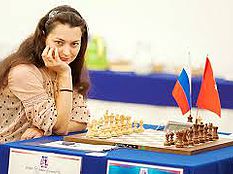 Maxim Rodshtein 
(born 19 January 1989 in Leningrad) is an Israeli chess grandmaster (since 2007).He won the World under-16 championship in Heraklio, Greece in 2004. Maxim Rodshtein won the 2006 Israeli Chess Championship. He won the 25th Andorra International Open (30 June – 8 July 2007) in a three-way tie for first in a field of 101 players. Maxim Rodshtein was twice silver medalist in the European Youth Championship.In 2008, Maxim Rodshtein was a member of the Israeli team in the 38th Chess Olympiad in Dresden; he scored 7 points from 9 games, contributing to the team silver medal. In particular, he was responsible for Israel's win against the Olympic champion, Armenia.
A few months later he was offered by Armenia's No. 1 Levon Aronian to work with him as a second. Maxim Rodshtein shared 1st in the 2008 Israeli championship, but didn't retain the title due to inferior tie-break. In 2010 he took clear first place in the 12th International Open of Sants, Hostafrancs and La Bordeta in Barcelona. In 2011 Rodshtein tied for 4th–10th with Rustam Kasimdzhanov, Gata Kamsky, Rauf Mamedov, Ivan Cheparinov, Denis Khismatullin and Yu Yangyi in the Aeroflot Open in Moscow.
In the same tournament in 2012, he tied for 4th–8th with Alexander Khalifman, Hrant Melkumyan, Fabiano Caruana and Dmitry Andreikin. Maxim Rodshtein tied for first, finishing third on tiebreak, at the 2013 Cappelle-la-Grande Open. He won the 45th Rilton Cup, which took place from 27 December 2015 to 5 January 2016 in Stockholm, with a score of 8/9 points.He served in the Israeli Air Force. Maxim Rodshtein is married to Czech WGM Tereza Olsarova.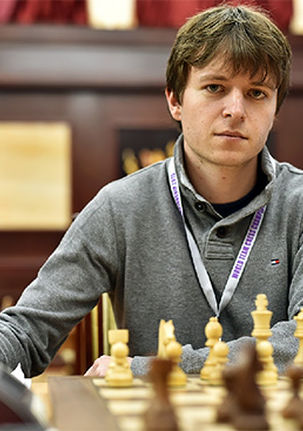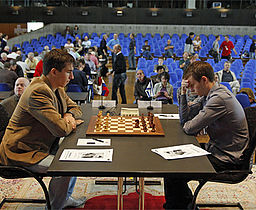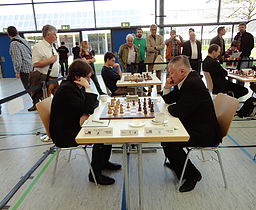 Pia Cramling
 (born 23 April 1963 in Stockholm, Sweden) is a Swedish chess grandmaster (GM). Since the early 1980s, she has been one of the strongest female players in the world. She has been ranked No. 1 woman in the FIDE World Rankings on three occasions (January 1984, July 1984 and January 1985). In October 2007, well into her forties, she still held the third highest rating among all females. Pia Cramling regularly plays on the Swedish open team in the Chess Olympiads, one of only three women to do so.
In 1992, she became the third female to earn the (FIDE) GM title through conventional tournament play (sixth woman overall).Pia Cramling is beside Judit Polgar (who elected to not play in women events) the only woman who earned her GM title before 2000 who has never won the Women's World Champion crown. According to herself, one explanation for this is that the World Championship is a team effort and that more prominent chess nations are able to give their players better support in important events. Nevertheless, Pia Cramling has been in reasonably close contention for the crown on four occasions (all in different decades). In the 1986 and 1996 Candidates cycle she came in fourth and third respectively, while she reached the semifinals of both the 2008 and 2015 Championships. She's had greater success in Europe where she's won the women's European Individual Chess Championship in 2003 and 2010.In 2006 she won the Accentus Ladies Tournament in Biel.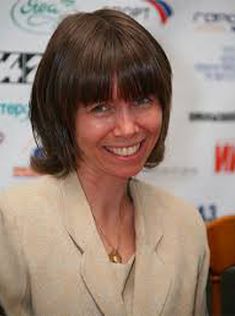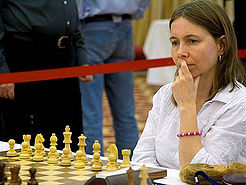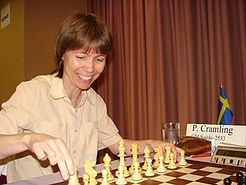 Aryan Tari 
(born 4 June 1999, Lierskogen, Norway) is a Norwegian chess Grandmaster and the 2015 Norwegian Chess Champion. Aryan Tari is the child of Iranian immigrants and has played chess since the age of five. He has also fulfilled the requirements for the Grandmaster title which will be awarded at the next FIDE congress.
Aryan Tari won the Junior section of the Norwegian Chess Championship in 2012, qualifying him for the championship section in 2013. Following an eighth place in 2013 and a second place in 2014, he won the 2015 Championship. At age 16 he is the third youngest player to achieve this feat, after Simen Agdestein and Magnus Carlsen who won at age 15.
At the Open Norwegian Championship in Fagernes in March 2013, he finished in seventh place and scored a Grandmaster norm, the second youngest Norwegian player ever to do so. Aryan Tari secured his second Grandmaster norm over nine rounds at the 2015 European Team Chess Championship in Reykjavik where he played Norway's third board and scored six points. A special FIDE clause for the continental team championships regards this as a 20-game norm which together with his norm from Fagernes and rating over 2500 is sufficient for the Grandmaster title. He will be Norway's 12th player to be awarded this title.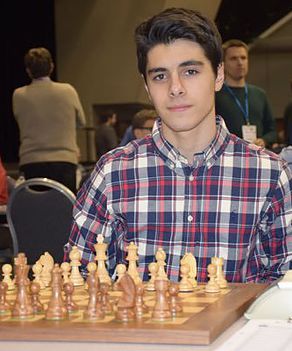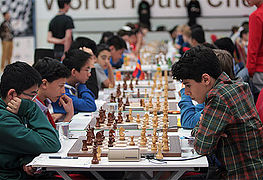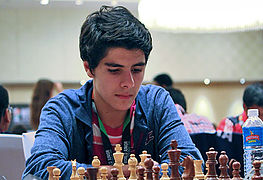 Mariya Olegivna Muzychuk
 (born 21 September 1992, Lviv) is a Ukrainian chess player and Women's World Chess Champion from April 2015 to March 2016. She is also a two-time champion of Ukraine (2012, 2013), World Team and European Team champion with Ukraine in 2013 and bronze medal winner of the 2012 and 2014 Chess Olympiad with Ukraine.
Maria Muzychuk was first taught chess at age two by her parents and at age three she already knew all the chess pieces. At age six, Maria Muzychuk took part in her first chess tournament. She has an older sister, Anna Muzychuk, who is also a leading chess player. Apart from chess, both sisters also play table tennis.
She won the under-10 girls' section at the 2002 European Youth Chess Championship in Peniscola, Spain. In November 2010 she was ranked as the fifth highest rated under-20 female player in the world.
She made it to the top-16 of the 2010 Women's World Chess Championship, but lost to Dronavalli Harika in an armageddon playoff after a tie in the regular match.
Maria Muzychuk won the women's Ukrainian Chess Championship in 2012 and 2013. In 2014 she won the best woman's prize at the Gibraltar Masters tournament, where she also earned a grandmaster norm.
She became world champion by winning the Women's World Chess Championship 2015. In the first round, she drew with Yuanling Yuan in the classical games and then defeated her in the tiebreaks. In round two, she drew with Monika Socko in the classical games and defeated her in the tiebreaks.
In round three, she defeated former Women's World Chess Champion Antoaneta Stefanova in the classical games by a score of 1½–½. In the quarter-final she defeated number one seed Humpy Koneru in the tiebreaks (2½–1½), and then beat Dronavalli Harika in the semi-final by tiebreaks (3½–2½). In the final she beat Natalia Pogonina with a score of 2½–1½.
As a result of her victory, she obtained the Grandmaster title as a direct award, and qualified for the 2015 Chess World Cup which was held in Baku, Azerbaijan. In 2015, Maria Muzychuk was awarded the Order of Merit, 3rd Class by Ukrainian President Petro Poroshenko. She is expected to defend her title against Hou Yifan in the Women's World Chess Championship 2016. 
2015 Ukrainian postage stamp featuring sisters Muzychuk.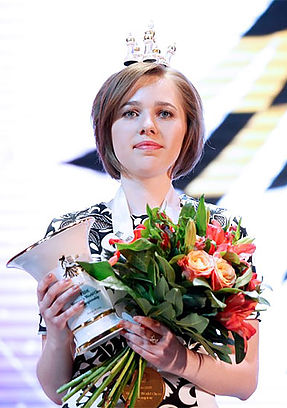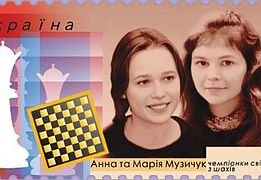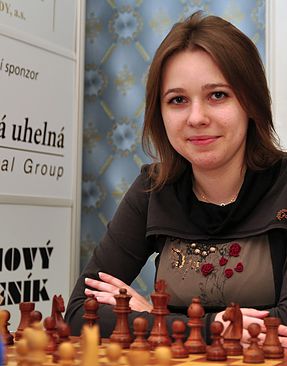 Anna Olegivna Muzychuk 
(born February 28) is a Ukrainian chess Grandmaster. Anna Muzychuk is ranked No 6 women in world and No 2 in Ukraine. From 2004 to 2014 she played for Slovenia. She's the fourth woman, after Judit Polgar, Humpy Koneru and Hou Yifan, to cross the 2600 Elo rating mark, having achieved a rating of 2606 in July 2012. She lives in Stryi with her parents and her sister. Her younger sister Mariya is the 2015 Women's World Chess Champion.
Anna Muzychuk was taught to play chess at the age of two by her parents, both professional chess coaches. She played her first tournament at five and in the same year she placed second in the under-10 girls championship of Lviv Oblast. From 1997 to 2005 she won several medals at Ukrainian, European and World Youth Championships. She won gold in the European Under-10 girls championship in 1998 and 2000, Ukrainian under-10 girls championship in 2000, Ukrainian and European under-12 girls championships of 2002, European Under-14 girls championship in 2003 and 2004, World U16 girls championship in 2005. She took silver at the European Under-10 girls championship in 1997 and 1999, European Under-12 girls championship in 2001, World Under-12 girls championship in 2002 and World U14 girls championship in 2004. She was the bronze medalist in the World Under-10 Girls Championship in 2000.
She was awarded the titles of Woman FIDE Master in 2001 and Woman International Master in 2002.
In 2003, Anna Muzychuk also won the Ukrainian Women's Championship. She won the Ukrainian U20 girls championship of 2004. In 2004, Anna Muzychuk started to play for Slovenia by coincidence: she was offered a contract by the Slovenian chess federation and was supported by them over the course of the next ten years. She played for the club from Ljubljana, and since 2004, for the Olympiad Slovenian national team. She represented them first in junior and then in adult tournaments, in these years becoming the strongest female chess player in Slovenia and the third best female player in the world. Anna Muzychuk continued to play for Slovenia even when while she lived in Stryi (Ukraine) and her younger sister Mariya, twice represented the Ukrainian national team. In 2007 she won the European women's blitz championship and was the runner-up in the European women's rapid championship, both held in Predeal, Romania. 
Anna Muzychuk was awarded the titles of International Master in 2007 and Grandmaster in 2012.
In 2010 she played in the Corus chess tournament Group B, finishing 10th with a score of 5½/13 and a performance of 2583. In the same year, Anna Muzychuk won the World Junior Girls Championship in Chotowa, Poland. She won the bronze medal in the Women's European Individual Chess Championship of 2012. Anna Muzychuk finished fourth in the 2014 Tata Steel Challengers tournament, scoring 8/13 (+4=8-1). In April 2014 she won the Women's World Blitz Championship. In May 2014, she returned to the Ukrainian chess federation. Anna Muzychuk won the 2014 Ukrainian women's championship in Lviv. She played on the top board for Slovenia in the Women's Chess Olympiads of 2004, 2006, 2008, 2010 and 2012. In her first Olympiad, in 2004, she defeated, among others, the then-reigning Women's World Champion, Antoaneta Stefanova. In the 37th Chess Olympiad in 2006 the Slovenian women's team, seeded 17th, finished tenth. In 2014 in the 41st Chess Olympiad Anna Muzychuk played on the top board for the Ukrainian team which gathered third place behind Russia and China. In the 2015 Women's European Team Chess Championship, she contributed to Ukraine's silver medal.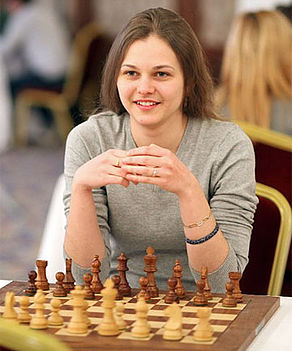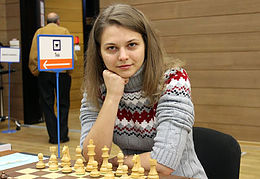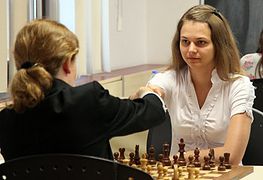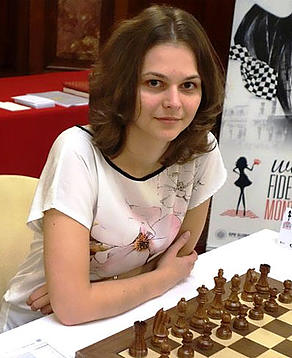 David Craig Smerdon  
(born 17 September 1984) is an Australian chess grandmaster from Brisbane, Australia. He is currently the second highest ranked player in Australia and one of only three active Australian Grandmasters.
He was educated at the Anglican Church Grammar School and the University of Melbourne, where he was a resident student at Trinity College.
To qualify for the title of Grandmaster, a player must achieve three Grandmaster norm performances, and a FIDE Elo rating over 2500. Late in 2007, David Smerdon achieved his third and final Grandmaster norm. In the July 2009 FIDE rating list his rating passed 2500, so he qualified for the title of Grandmaster.
He is the fourth Australian to become a Grandmaster, after Ian Rogers, Darryl Johansen and Zhao Zong-Yuan.In 2009, he won the Queenstown Chess Classic tournament and the 2009 Oceania Chess Championship with a score of 7½/9.
David Smerdon took part in the Chess World Cup 2009 and was knocked out by Leinier Domínguez in the first round.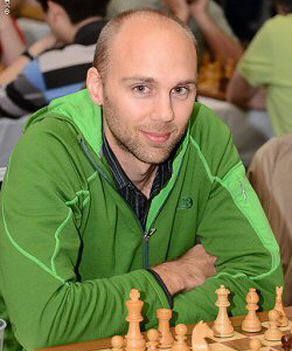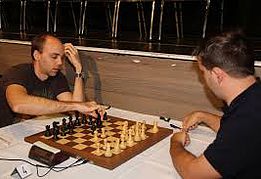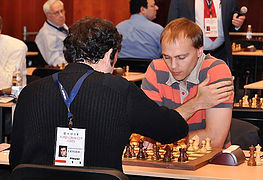 Elisabeth Pähtz 
(born 8 January 1985) is a German chess Woman Grandmaster.
She was trained in chess from early childhood by her father Thomas Pähtz, a chess Grandmaster himself. At the age of 9 years she won her first German championship in the under-11 age group. In 1999 she became Germany's women's chess champion. She served as one of four advisors on the World team in the 1999 Kasparov versus The World chess match.
In 2002 Elisabeth Pähtz became the Youth World Champion of the under-18 age group, and in 2004 the Junior World Champion of the under-20 age group. The same year at the European women's championship in Dresden she took 16th place.
She attended the Sport High School Dresden until 2004 and is among the strongest native German chess players. She plays for the Dresdner Sport Club 1898 and other associations.
As one of the greatest German new-generation talents Pähtz was the subject of a large media interest when growing up. Among other things it was reported that she was likely to fail high school mathematics. Her own explanation for this however, is that she is an intuitive player and so does not have to be a universal genius.
She holds the FIDE titles of International Master (IM) and Woman Grandmaster (WGM).