PLAYERS 
PARTICIPATING PLAYERS: SEASON I
Nigel David Short MBE
(born 1 June 1965) is an English chess Grandmaster, chess columnist, chess coach and chess commentator. Nigel Short earned the Grandmaster title at the age of 19, and was ranked third in the world by FIDE from January 1988 to July 1989. In 1993 he became the first English player to play a World Chess Championship match, when he qualified to play Garry Kasparov in the World Chess Championship 1993 in London.
A chess prodigy, Nigel Short first attracted significant media attention, as a 10-year-old, by defeating Viktor Korchnoi in a simultaneous exhibition. In 1977 he became the youngest ever participant in the British Chess Championship by qualifying three days before his twelfth birthday. Two years later, at the British Championship in Chester 1979, the 14-year-old tied for first place with John Nunn and Robert Bellin, earning his first IM norm. He became (at the time) the youngest International Master in chess history, by scoring 8/15 in the Hastings Premier in 1979/80 and thus breaking Bobby Fischer's record of 1958. Participating in four World Junior Championships (1980–1983), Nigel Short achieved his best result during his first attempt in which he placed second to Garry Kasparov in 1980 at Dortmund. He was awarded the grandmaster title in 1984, aged nineteen—becoming the youngest grandmaster in the world at that time.
In his long career he won the British Chess Championship in 1984, 1987, and 1998, and the English Championship in 1991. He was the Commonwealth Champion in 2004, 2006 (both Mumbai) and 2008 (Nagpur). He won the 2006 EU Individual Open Chess Championship in Liverpool and took a share of second place in the 2008 edition, when it was held there again. He has finished outright first, or tied for first, in dozens of other international tournaments including Geneva (1979), Belfort, World Under 16 (1979), the BBC Master Game (1981), Amsterdam OHRA (1982), Baku (1983), Esbjerg (1984), British Rapidplay Chess Championship (1986), Wijk aan Zee (1986, 1987), Reykjavík (1987), Amsterdam VSB (1988, 1991, 1992, 1993), Hastings (1987/88, 1988/89), Pärnu (1996), Groningen (1996), Tallinn/Pärnu (1998), Isle of Man Monarch Assurance 1998, Dhaka United Insurance (1999), Shymkent (1999), Pamplona (1999/2000), Linares Open (2000), Tan Chin Nam Cup, Beijing (2000), Sigeman and Co. Malmö (2002, 2009, 2013 joint first shared with Richárd Rapport and Nils Grandelius), Gibraltar (2003, 2004, 2012), Budapest Hunguest Hotels (2003), Samba Cup, Skanderborg (2003), Taiyuan (2004), the Politiken Cup (2006), Bazna (2008), the Staunton Memorial (2009) Thailand Open (2011, 2012), Luanda (2011), 7th Edmonton International (2012), Bunratty (2012), RA Club Ottawa (2012), Pühajärve Rapid Chess Tournament (2012), and Spicenet Tanzania Open (2013).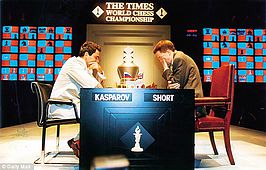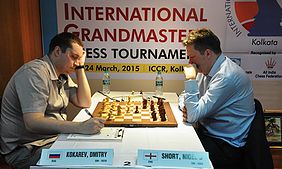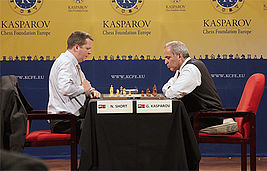 Wenjun Ju 
(born 31 January 1991) is a Chinese chess player, who holds the FIDE title of Grandmaster. In December 2004, Wenjun Ju came joint second in the Asian Women's Chess Championship in Beirut. In October 2007, she came joint fourth in the 2007 China Women's Zonal 3.5 Tournament in Tianjin.
In June 2010 she won the Women's Chinese Championship with 8/11. In July 2011 she won the 1st Hangzhou Women Grand Master Chess Tournament ahead of reigning Women's World Chess Champion Hou Yifan undefeated with 6.5/9.
During June 18 to July 2, 2014 in the 5th stage of the FIDE Women's Grand Prix 2013–14 held in Lopota, Georgia she placed join second with Elina Danielian and a 7/11 score (+5 -2 =4, TPR 2622). This marks her fourth and final GM norm necessary for Grandmaster status.
In the 6th stage of the FIDE Women's Grand Prix 2013–14 held in Sharjah, United Arab Emirates, from August 24 to September 7, she placed joint first with Hou Yifan with a 8.5/11 score (+6 =5, TPR 2695). At the conclusion of this tournament her live rating also eclipsed 2580, making her the second highest rated Chinese women player ever, beating Zhao Xue's September 2013 mark of 2579. She was the No. 2 ranked girl chess player (under-21) in the world on the November 2011 Top 20 Girls FIDE rating list. She had been on the FIDE Top 20 Girls list from January 2007 to November 2011.
In the 4th Quarter of 2014 Presidential Board meeting in Sochi, Russia, her GM title was approved. With 5 successful GM norms, including 3 Norms from the Women's Grand Prix (1 from each series), she is now a fully fledged grandmaster, China's 31st Grandmaster and the 31st woman to hold the title.
In 2014 Wenjun Ju became Women's Chinese Champion for the second time since 2010.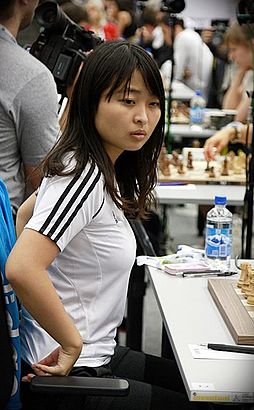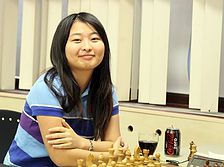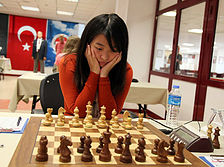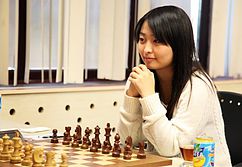 Jovanka Houska
(born 10 June 1980) is an English chess player with the titles International Master (IM) and Woman Grandmaster (WGM).
One of England's most active professionals, she first represented her country at the World Youth Championship for Girls (under 10) in Timişoara 1988, finishing fifth after a disastrous start and despite being years younger than most of her opponents. She competed in the same event at Aguadilla in 1989 and then, for a third time at Fond du Lac in 1990, where she won the bronze medal.
There were many more successes over the next few years including another bronze medal at the European Junior Championship for girls (under 20) at Erevan in 1998. As a consequence, she was awarded the Woman International Master (WIM) title the same year, after securing all three norms in just over a month. Her first WGM norm was achieved at the 1999 British Championship when she was still a teenager.
Then, at Avilés in 2000, her previous efforts were eclipsed by a return visit to the European Junior Championship—capturing the gold winner's medal, ahead of Viktorija Čmilytė. It was a milestone victory, as it also provided a final qualification norm for the WGM title. The following year saw her take the Women's Commonwealth Championship, held in London in conjunction with the Mind Sports Olympiad. She defeated GM Dibyendu Barua in the process and gained a first IM norm.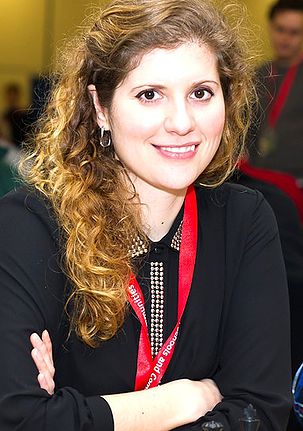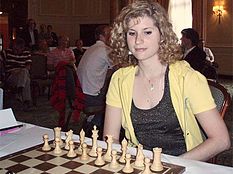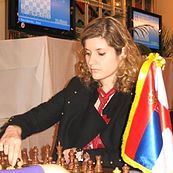 Tiger Hillarp Persson
(born 28 October 1970) is a Swedish chess Grandmaster. He won tournaments in Gentofte (VISA Nordic Grand Prix, ahead of Sune Berg Hansen, Simen Agdestein, Einar Gausel, Helgi Grétarsson, Heikki Westerinen and more, York in 1999, Jersey (2000), Barcelona Sants 2003 and The Guernsey International Open (2001, 2003, 2007, 2008, 2009 and 2010).
He finished second in the Nordic Championship in Vammala, Finland (2005). In 2008 he was the winner of the Sigeman & Co Chess Tournament in his hometown of Malmö with an impressive 7½ points. He has won the Swedish Chess Championship twice, in 2007 and 2008. In 2009 he finished second in the C-group of the Corus Chess Tournament. Representing Sweden, he scored individual bronze medals in the Chess Olympiad in Elista, 1998 and in Dresden 2008. In 2015 he also attained the level of 1-Dan in the Game of Go.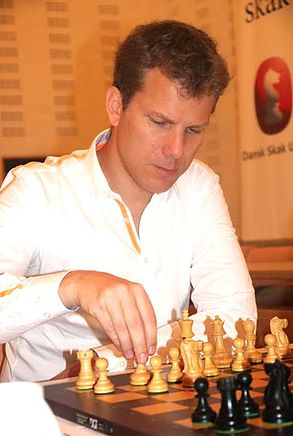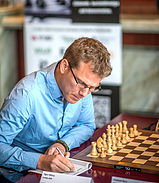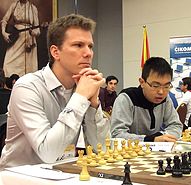 Irina Krush 
(born December 24, 1983) is an American chess International Grandmaster who has won the U.S. Women's Chess Championship in 1998, 2007, 2010, 2012, 2013, 2014, and 2015. 
Irina Krush became widely known for her series of chess training videos, the "Krushing Attacks" series.
She gained an additional measure of fame both inside and outside chess circles during the well-publicized "Kasparov versus the World" chess competition in 1999. Garry Kasparov played the white pieces and the Internet public, via a Microsoft host website, voted on moves for the black pieces, guided by the recommendations of Irina Krush and three of her contemporaries, Étienne Bacrot, Elisabeth Pähtz and Florin Felecan. On the tenth move, she suggested a novelty, for which the World Team voted. Kasparov said later that he lost control of the game at that point, and wasn't sure whether he was winning or losing.
She currently plays for the New York Knights in the U.S. Chess League, and both she and her ex-husband Canadian Grandmaster Pascal Charbonneau have played in the United Kingdom league for Guildford-ADC.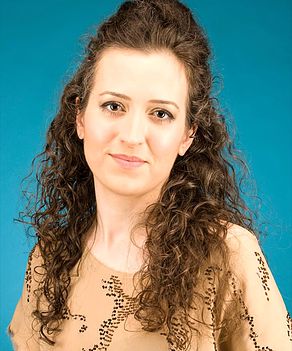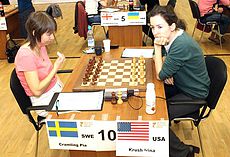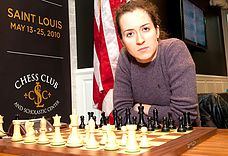 Nino Maisuradze 
(born June 13, 1982) is a French Grandmaster chess player and two-time Women's Chess Champion.
She was born in Georgia and moved to France in 2003, becoming naturalised six years later. She was awarded the Woman Grandmaster title in 2009 and won the French Women's Chess Championship in 2013 and 2014.
Nino Maisuradze won individual gold at the Women's Mitropa Cup in 2010. She represented France in the 2010 and 2012 Chess Olympiads but was omitted from the French team for the 2014 edition, despite being reigning national champion.
She is married to Brazilian chess Grandmaster Alexandr Fier.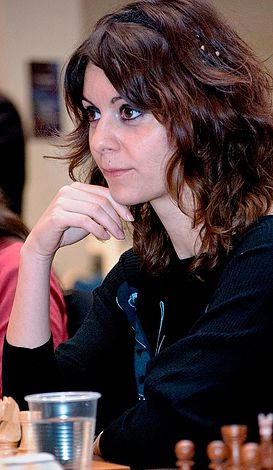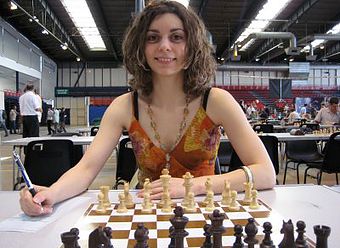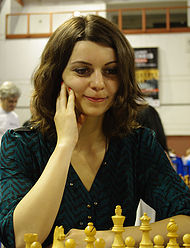 Elisabeth Pähtz 
(born 8 January 1985) is a German chess Woman Grandmaster.
She was trained in chess from early childhood by her father Thomas Pähtz, a chess Grandmaster himself. At the age of 9 years she won her first German championship in the under-11 age group. In 1999 she became Germany's women's chess champion. She served as one of four advisors on the World team in the 1999 Kasparov versus The World chess match.
In 2002 Elisabeth Pähtz became the Youth World Champion of the under-18 age group, and in 2004 the Junior World Champion of the under-20 age group. The same year at the European women's championship in Dresden she took 16th place.
She attended the Sport High School Dresden until 2004 and is among the strongest native German chess players. She plays for the Dresdner Sport Club 1898 and other associations.
As one of the greatest German new-generation talents Pähtz was the subject of a large media interest when growing up. Among other things it was reported that she was likely to fail high school mathematics. Her own explanation for this however, is that she is an intuitive player and so does not have to be a universal genius.
She holds the FIDE titles of International Master (IM) and Woman Grandmaster (WGM).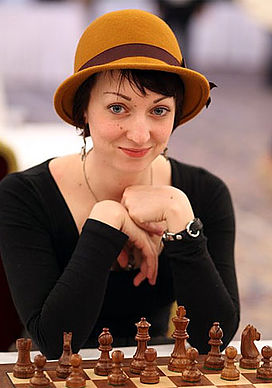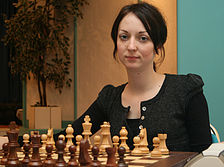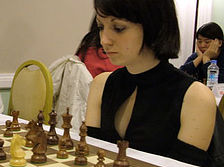 Arkadij Naiditsch 
(born 25 October 1985) is an Azerbaijani chess Grandmaster (title awarded in April 2001). In 2015 he has switched from the German Federation to the Azerbaijani Federation.
He was the clear winner of the Dortmund Sparkassen 2005 Tournament, ahead of higher-rated and well-known players such as Loek van Wely, Veselin Topalov, Peter Svidler, Vladimir Kramnik, Michael Adams, and Peter Leko. In 2007, he won the German national championship based in Bad Königshofen.
In 2011 he won the 15th International Neckar Open with 8½/9, breaking the 2700 Elo barrier.
In August 2014 he won with the black pieces against world champion Magnus Carlsen, playing first board for the German team in the chess olympiads. In December 2014 he finished first in 38th Zurich Christmas Open, one point ahead of Richard Rapport.
Arkadij Naiditsch tied 1st with Magnus Carlsen in the 3rd Grenke Chess Classic tournament played in Baden-Baden in February 2015, yet eventually finished second after a five-game tiebreak.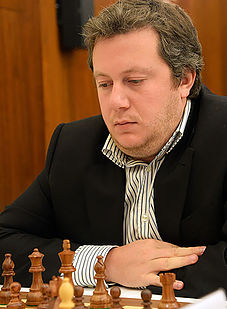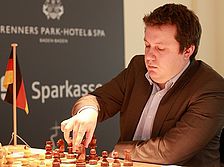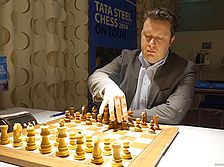 Richárd Rapport 
(born 25 March 1996) is a Hungarian chess prodigy. In March 2010, he became the fifth youngest chess Grandmaster in history.Richárd Rapport achieved the National Master title in 2008, and became an International Master the next year.
In March 2010, at the Gotth'Art Kupa in Szentgotthárd, he fulfilled the final norm and rating requirements for the Grandmaster title. He came in second on the tournament behind his trainer Alexander Beliavsky, and tied with Lajos Portisch (one of the strongest non-Soviet players in the second half of the 20th century). Thus, at the age of 13 years, 11 months and 6 days, he became the youngest ever Hungarian grandmaster (the previous record was held by former world title challenger Péter Lékó), and the fifth youngest chess grandmaster in history.
In May, Richárd Rapport tied for first in the Sigeman & Co Chess Tournament, together with Nigel Short and Nils Grandelius, winning on tiebreaks (head-to-head result). He scored 4½/7 (+3−1=3).[3]
In December, Richárd Rapport won the European Rapid Chess Championship and finished fourth in the European Blitz Chess Championship.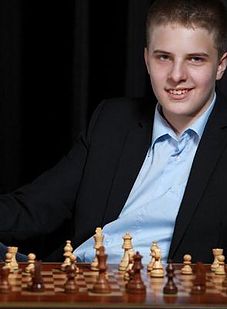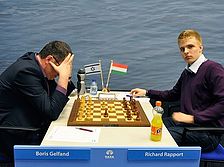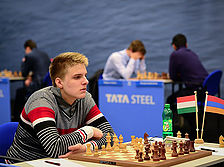 Igor Lysyj 
(born 1 January 1987) is a Russian chess grandmaster (2007). In 2014, he became the Russian Chess Champion.
Igor Lysyj won the Russian Junior Rapid Chess Championship in 2004. In 2006 he tied for first with Roman Ovetchkin in the Zudov Memorial. In 2009, tied for 1st–8th with Sergey Volkov, Dmitry Bocharov, Aleksandr Rakhmanov, Valerij Popov, Denis Khismatullin, Dmitry Andreikin and Dmitry Kokarev in the Voronezh open tournament. 
In 2009/10 he tied for 1st–5th with Eduardas Rozentalis, Pavel Ponkratov, Radosław Wojtaszek and Luke McShane in the 39th Rilton Cup in Stockholm. In 2012 he came first in the Moscow Open.
On the January 2015 FIDE Elo rating list, Igor Lysyj has a rating of 2700.